A clean and tidy living room offers a great entertaining and relaxing space for family and friends. There's no better feeling after a hard day of work, then to come home to a clean and tidy living room. Sit back. Relax. And breathe in the fresh clean smell while you put up your feet and enjoy some "you time".
Get 10% off first cleaning
Quality and affordable service
Experienced and qualified staff
100% satisfaction guarantee
Book your professional home cleaning service today!
Get A Free Quote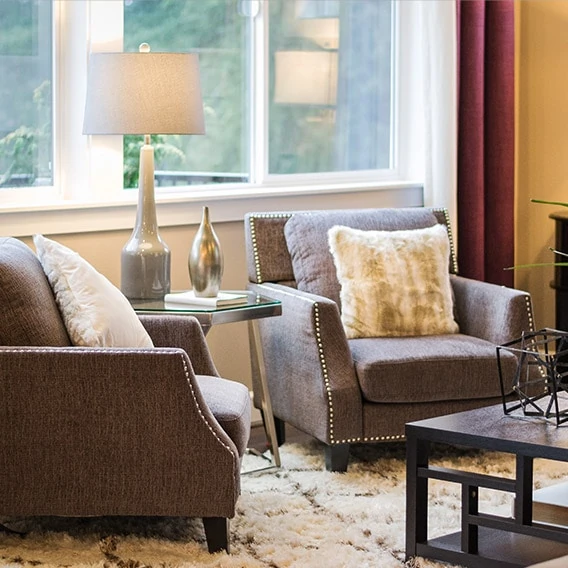 Here's what you can expect from our home cleaners when it comes to cleaning your living:
Perform a thorough dusting
Spot clean windows and walls to remove smudges and fingerprints
Vacuuming and/or sweeping and mopping
Clean doors as well as under couches (where applicable)
As part of a deep cleaning, we also include the following
Vacuum and wipe down all couches and chairs
Getting started is easy. Book your cleaning online today!
Book Your Cleaning
Why Is a Clean Living Room Important?
Allowing dust and dirt to characterise your living room can lead to accumulation of bacteria and allergens which negatively impact your family's health.
Who doesn't want to come to a clean and tidy living room? Cleaning and tidying the living room is not only important in terms of aesthetics but it's also necessary to reduce dust, bacteria and allergens that can cause health problems, cause allergies to flare up, or trigger conditions like asthma.
Our efficient house cleaners will transform your living room into a relaxing, comfortable, and inviting space for you and your loved ones.
Living Room Cleaning Tasks We Perform
As part of our house cleaning services, here's a breakdown of some of the cleaning tasks we perform regarding your living room.
Dusting Furniture
Dust tends to accumulate on different surfaces of your living room, including the coffee table, window treatments, ceiling fan blades, shelves, woodwork, lamps, or different knick-knacks. Our skilled cleaners use microfiber cloths and dusters to efficiently dust your home and living room.
Removing Cobwebs
Cobwebs can accumulate in the corners of your home, and if not cleaned can make the home look unkempt. They are not only unsightly but can also host spiders. Our team will get rid of these cobwebs throughout the living room, even those under your furniture.
Cleaning Floors
Regardless of the kind of flooring in your living room, we work hard to leave the floor sparkling clean. We vacuum and deodorise rugs and carpets in the living room. Additionally, we sweep and mop floors leaving them looking great and smelling fresh.
Vacuuming Furniture And Dusting Leather
Dust, pet dander, and crumbs can find their way into the chairs and sofa in the living room. As part of our deep cleaning service we vacuum furniture to get rid of this buildup.
Cleaning Windows and Glass Surfaces
Our team uses a streak-free cleaning solution to clean the interior part of windows within reach in the living room. We'll clean windows and glass surfaces and leave them free of fingerprints, streaks, and stains.
Our house cleaners clean your living room or family room as part of any of the following home cleaning services:
Other rooms we cleaning we perform as part of a home cleaning include:
Call Us Today for a Free Quote
Book your cleaning today, and get a 10% discount on your first cleaning service!
Call Us

(226) 400-7376
How It Works
Get An Estimate
Our booking process is easy and quick, over the phone or online. Get in touch with us now for an estimate.
Choose Your Frequency
Do you need an annual, monthly, weekly, or just a one-off cleaning service? Choose a frequency and let us do the rest.
Schedule an Appointment
You can schedule an appointment on the phone, or online from any device at your convenience.
Get a Free Quote Now
Benefits Of A Clean Living Room
A clean living room is important for the whole family. Here are some reasons you should have your kitchen cleaned regularly:
For Better Health
A clean living room supports better overall health by reducing dust, bacteria and allergens. A clean living space can also help reduce triggers for conditions like asthma or emphysema.
For An Inviting, Presentable, And Relaxing Environment
The look and feel of a neat and clutter-less living room make the entire space an inviting, presentable and relaxing environment. Whether you're back from work or running an errand, there's no better feeling than coming back to a tidy and clean living room.
To Reduce or Control Allergies
Dust and other allergens inside a home can cause allergies to flare up. Additionally, allergens such as dander, pollen, dust mites, etc. can cause coughing, watery eyes, runny nose, skin infections, and nasal congestion. A clean living room reduces allergens and improves your overall health.
Improve Your Quality of Life
Cleaning your home can take up a significant amount of your time and energy. A regular cleaning service frees up your time so you can enjoy the finer things in life, like family and friends.
Get a Free Estimate Today