We spend roughly one-third of our life in the bedroom. While most of this time is likely spent sleeping, the bedroom is also a space to unwind and catch up on some rest and relaxation. And what better way to unwind then in a freshly cleaned bedroom?
Our house cleaners can help add some zen to your bedrooms.
Get 10% off first cleaning
Quality and affordable service
Experienced and qualified staff
100% satisfaction guarantee
Book your home cleaning service with us today!
Get A Free Quote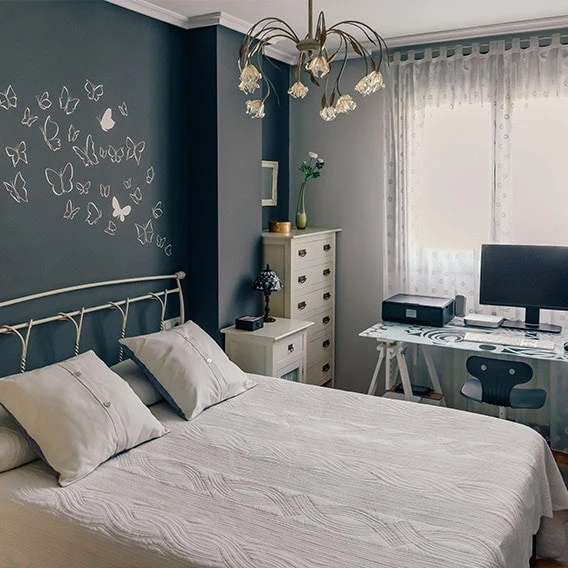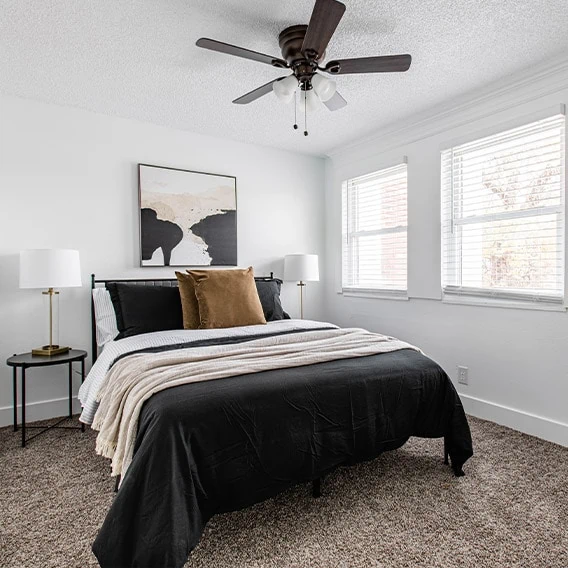 So what's required to get your bedrooms looking clean and smelling fresh? As part of a home cleaning, here's what you can expect our team to do:
Perform a thorough dusting
Clean and wipe down night tables
Dust and wipe down dressers
Let our team take the stress out of maintaining a clean home. We have all the necessary tools and cleaning supplies to thoroughly clean your home.
Get started today by getting a free estimate online.
Book Your Cleaning
Why is a Clean Bedroom Important?
Bedrooms can harbor lots of dust, dirt, and dust mites. After all, we shed our dirty clothes here, and shed the most dead skin cells in this room. Keeping your bedrooms clean is an important part of maintaining good health.
We spend a large percentage of our time in our bedrooms getting much needed rest. So its important that we keep the environment and air quality clean. This requires dusting, vacuuming, sweeping and mopping, sanitizing, and tidying up.
Bedroom Cleaning Tasks We Perform
Our house cleaners make sure to clean the bedrooms in your home as part of a home cleaning. Here are some of the tasks you can expect our team to perform in your bedrooms:
General Straightening Up
Although our cleaning team does not offer a turndown service, we will straighten things up by organizing your pillows, tidying things up, and organizing any small items in your room. This includes items on your dresser or your nightstand.
Dust Surfaces
As part of a home cleaning, our team will dust your home including your bedrooms. This includes dusting baseboards, window sills, furniture, pictures, decor, and more.
Spot Clean Walls
When our cleaning team cleans your bedrooms, we'll inspect the walls for smudges or stains and spot treat your walls to keep them looking clean.
Clean Windows
Our cleaners make sure to clean windows and glass surfaces in your home, including your bedroom. This includes utilizing microfiber cloths and green cleaning solutions to effectively clean your windows and leave them streak-free.
Clean Night Tables
We'll dust and wipe down your night tables to keep them looking clean and brand new. We use cleaning solutions that are safe for all materials including wood or stainless steel.
Clean Mirrors
If you have mirrors in your bedroom, our professional cleaners will make sure to clean your mirrors down. This includes wiping them down with microfiber cloths to leave your mirrors highly reflective, streak free, and lint free.
Clean Dressers
When our team cleans your bedrooms we also dust and wipe down your dressers and other furniture in your bedroom. We make sure to wipe down all sides of your furniture to leave them free of dust and debris.
Empty Garbage Bins
If you have any garbage receptacles in your bedroom, our house cleaners will take care of garbage removal by emptying your garbage bins. If your bins are dirty, we will also take the time to wipe down all sides of your bins and sanitize them to prevent odors.
Sweep and Mop, or Vacuum
As part of your bedroom cleaning, our team will sweep and mop floors and/or vacuum and deodorize carpets or area rugs. We use powerful vacuum cleaners and a natural deodorizer that contains essential oils to leave your room looking clean and smelling great.
Our house cleaners clean your bedrooms as part of any of the following home cleaning services:
Other rooms we cleaning we perform as part of a home cleaning include:
Call Us Today for a Free Quote
Book your cleaning today, and get a 10% discount on your first cleaning service!
Call Us

(226) 400-7376
How It Works
Get An Estimate
Our booking process is easy and quick, over the phone or online. Get in touch with us now for an estimate.
Choose Your Frequency
Do you need an annual, monthly, weekly, or just a one-off cleaning service? Choose a frequency and let us do the rest.
Schedule an Appointment
You can schedule an appointment on the phone, or online from any device at your convenience.
Get a Free Quote Now
Frequently Asked Questions
Here are some of the frequently asked questions when it comes to bedroom cleaning:
How much does it cost to clean a bedroom?
Different factors affect the cost of cleaning a bedroom. The condition, size, square footage, and frequency of cleanings can all affect the cost of cleaning a bedroom. The average hourly rate for a cleaner is between $25 - $50. It is prudent to be flexible to changes in rates as it is a normal occurrence in the cleaning service industry.
How long does it take to deep clean a bedroom?
There's no specific time frame for how long it takes to deep clean a bedroom as countless factors come into play. Chief among them is the size of the bedroom. The number of items in the room can also affect the duration. It should take several hours to completely clean a bedroom.