The trash is overflowing, dishes are piling up and counters are cluttered. It's time for a kitchen clean-up! But with all the busy schedules between work, family, and friends, who has the time for a really good kitchen cleanup? Yet, keeping a clean kitchen is important for both your health and the overall appearance of your home.
Get 10% off first cleaning
Quality and affordable service
Experienced and qualified staff
100% satisfaction guarantee
Book your home cleaning service with us today!
Get A Free Quote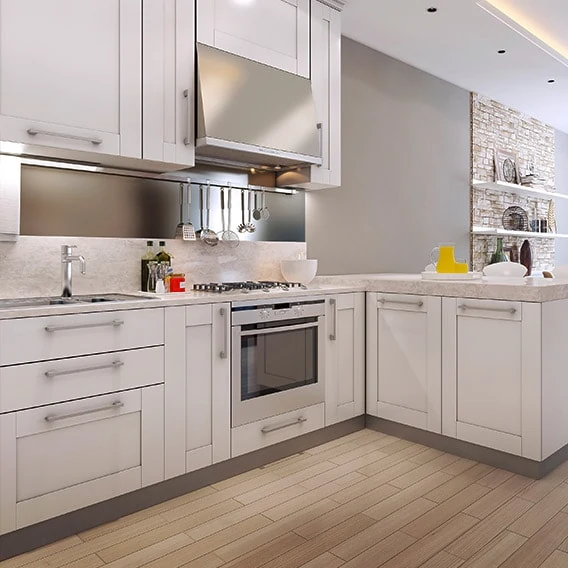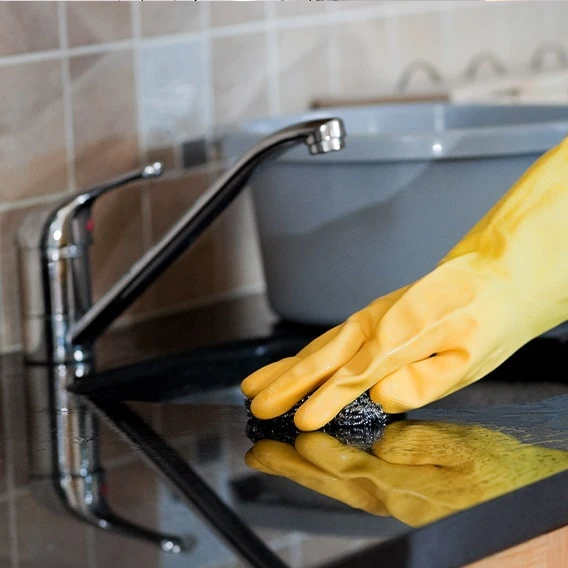 As part of our home cleaning service, here's what we do to ensure your kitchen looks spotless:
Clean and wipe all cupboards
Clean and wipe all appliance surfaces
Wash and sanitize sinks and counters
Clean the microwave inside and out (if applicable)
Empty garbage and recycling
Leave the hard work to us. Come home to a perfectly clean kitchen. Get started with a free estimate online.
Book Your Cleaning
The Importance of Maintaining a Clean Kitchen
A clean kitchen makes cooking easier and safer by eliminating dirt, dust, and bacteria. Some bacteria can cause serious illnesses, such as food poisoning, so it's important to keep your kitchen clean at all times.
With all the cooking and dishwashing that goes on in the kitchen, counters and cabinets tend to get stains from food and liquids spilling or splashing.
Dirt, stuck on food, oil and other kitchen grime can also reduce the long-term appearance of your kitchen appliances. Regularly cleaning your kitchen is important for both your health and wellbeing, as well as maintaing your home's value.
Kitchen Cleaning Tasks We Perform
Kitchens can get pretty messy, especially if you have a large family and do lots of cooking and dishwashing. Here's what you can expect from us when we clean your kitchen as part of a home cleaning:
Clean and Wipe Cupboards
We work top to bottom and across your kitchen to wipe down the exterior of your cupboards. We use a gentle but effective cleaning solution that protects your cupboards surface while removing dust, oil, gunk, and stains.
Clean and Wipe Appliances
We use safe cleaning solutions for any appliance, including stainless steel, to get them perfectly clean. This includes getting rid of stuck on food, crumbs, stains, and oil.
Clean Backsplashes
Backsplashes are a great decorative addition to a kitchen. Unfortunately, they can easily get covered in oil and stains from cooking. We use a safe and gentle degreasing solution to clean your backsplashes and get them sparkling clean.
Clean Stove Tops
Whether you have a gas stove, induction burners, or a glasstop stove, we use safe and effective cleaning solutions and equipment to get the job done. We'll remove any stuck on food or oil to get your stove tops clean and ready to use.
Wash and Santize Sinks and Counters
Sinks can accumulate food and bacteria that can cause unpleasant odors. As part of a home cleaning, we'll clean and wipe down your sinks and countertops. We'll also sanitize your sinks to get them looking clean and eliminate odors and bacteria.
Clean Your Microwave
Microwaves can get messy and need regular cleaning. Our house cleaners will clean your microwave inside and out to get it clean and ready to use. This includes cleaning and sanitizing the rotating plate, and wiping down the exterior to remove any dust, food, or oil.
Dust Your Kitchen Area
Our cleaning team performs general home dusting in your kitchen area as part of a home cleaning. This includes dusting window sills, doors, picture frames, lampshades, kick-knacks, and more.
Clean Your Floors
Your kitchen floors can get quite messy, and accumulate dirt and food debris. When our house cleaners clean your kitchen, we make sure to sweep and mop floors and/or vacuum carpets and area rugs. We also deodorize carpets and rugs with a natural deodorizer equipped with essential oils.
Garbage Collection
When our house cleaners clean your home, we empty all garbage and recycling receptacles and replace old bags with new ones. This includes removing the garbage and recycling from your kitchen. When receptacles are dirty, which is often the case in the kitchen, we'll also wipe down the bins and sanitize to keep them from smelling up your home.
Our house cleaners clean your kitchen as part of any of the following home cleaning services:
Other rooms we cleaning we perform as part of a home cleaning include:
Call Us Today for a Free Quote
Book your cleaning today, and get a 10% discount on your first cleaning service!
Call Us

(226) 400-7376
How It Works
Get An Estimate
Our booking process is easy and quick, over the phone or online. Get in touch with us now for an estimate.
Choose Your Frequency
Do you need an annual, monthly, weekly, or just a one-off cleaning service? Choose a frequency and let us do the rest.
Schedule an Appointment
You can schedule an appointment on the phone, or online from any device at your convenience.
Get a Free Quote Now
The Benefits of a Clean Kitchen
A clean kitchen is important for the whole family. Here are some reasons you should have your kitchen cleaned regularly:
Maintain Good Hygiene
Sanitizing your countertops and cooking surfaces is important when it comes to maintaining good health. This includes getting rid of stuck on food from which bacteria can grow from.
Maintain Your Appliances
Cleaning your appliances regularly improves the appearance of your appliances, but also extends the life of those surfaces.
Control Odors in the Home
Sinks and garbage receptacles can be a breeding ground for bacteria that lead to unpleasant odors in your home. Cleaning and sanitizing your sinks, countertops, and garbage bins will keep your home smelling fresh.
Improve Your Quality of Life
Who wants to come home from a hard day of work to face a dirty kitchen, and cooking duties? Let our house cleaners do the heavy lifting. Improve your quality of life, and come home to a sparkling kitchen
Get a Free Estimate
Frequently Asked Questions
Here are some of the frequently asked questions when it comes to kitchen cleaning services:
What is a kitchen deep clean?
A deep cleaning of your kitchen is significantly more detailed than a general cleaning. A deep clean should always be the first cleaning you request so that the house cleaners can do a detailed clean of your kitchen. A general cleaning is meant to maintain the cleanliness that's provided by a deep clean.
How often should you deep clean a kitchen?
It's recommended that you deep clean your kitchen once a month, or at least once every 3 months, depending on how dirty your kitchen is and how fast dirt accumulates. If you have a weekly house cleaning service, you can reduce the frequency of a deep clean as well.
How often should you deep clean your fridge?
It's recommended that you deep clean your fridge at least once a month, and no less than once every 2-3 months. Fridges accumulate dirt quickly from spills and spoiled food, so a monthly deep clean is generally advisable.
How often should you deep clean your stove?
It's recommended that you deep clean your stove once a month, and no less than once every 2-3 months. Stoves accumulate lots of buildup from food stains, stuck on or burnt food, and requires more frequent cleaning.