Glass surfaces have a way of attracting dirt and fingerprints! But when glass surfaces are sparking clean, they can really improve the appearance and elegance of your home. Clean windows allow more light to enter your home, and a streak free shine makes your glass look brand new.
Get 10% off first cleaning
Quality and affordable service
Experienced and qualified staff
100% satisfaction guarantee
Book your professional home cleaning today!
Get A Free Quote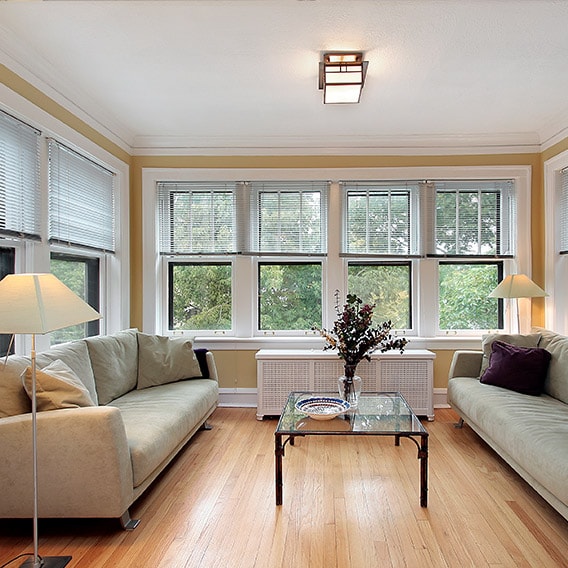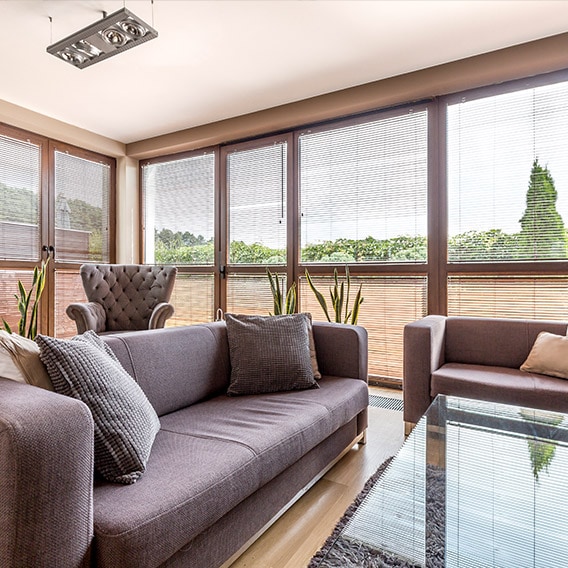 Our team has the skills, experience, and tools to clean all the interior windows within reach. We use efficient cleaning solutions and eco-friendly products to thoroughly clean your windows and glass surfaces, leaving them streak-free.
As part of a home cleaning, we perform the following:
Wipe down the interior of all windows within safe reach
Clean sliding glass doors
Wipe down and dust window sills
Clean and wipe down glass surfaces like countertops or tables
Getting started is easy. Get a free estimate online and book in your cleaning.
Get Started Today!
Window and Glass Cleaning Tasks We Perform
As part of a home cleaning, here's what you can expect in terms of cleaning your home's windows and glass surfaces:
Wipe Down Windows
Our house cleaners use green cleaning supplies to effectively clean the interior of all windows within safe reach. We use the right solutions and tools to ensure we leave your windows streak-free.
Clean Sliding Glass Doors
If you have any sliding glass doors we'll clean and wipe down the doors from the interior. If they can be safely accessed from the exterior without additional equipment, we'll also clean the exterior of those doors as well.
Wipe and Dust Window Sills
Window sills have a habit of collecting dust. Our house cleaners use professional dusters and microfiber cloths to remove dust and debris from your window sills.
Clean Glass Surfaces
Our cleaning team will make sure to wipe down any glass surfaces in your home. This includes glass countertops, coffee tables, dinner tables, or other glass surfaces in your home. We use the right solutions and equipment to leave your glass streak-free.
Our house cleaners will clean your windows and glass surfaces as part of any of the following home cleaning services:
Other cleaning we perform as part of a home cleaning includes:
Call Us Today for a Free Quote
Book your cleaning today, and get a 10% discount on your first cleaning service!
Call Us

(647) 760-6357
How It Works
Get An Estimate
Our booking process is easy and quick, over the phone or online. Get in touch with us now for an estimate.
Choose Your Frequency
Do you need an annual, monthly, weekly, or just a one-off cleaning service? Choose a frequency and let us do the rest.
Schedule an Appointment
You can schedule an appointment on the phone, or online from any device at your convenience.
Get a Free Quote Now
Why is Cleaning Your Windows Important?
With so many windows in a home, it can be challenging to keep up with regularly cleaning them all. But regular cleaning of your windows makes them look great, and can maintain their condition for many years to come.
Here are some of the reasons why cleaning your windows is important:
Long-Term Protection
Windows that are left dirty for a long period of time can become more challenging to clean because of the accumulation of hard minerals and oxidation. Dirt or debris can also cause damage or scratches to your windows not cleaned properly.
For More Natural Light
Did you know dirt particles that accumulate over time on your windows can block sunlight? Clean windows allow more light into your home which can make your rooms look and feel more inviting. As part of our home cleaning services, we clean windows so that your recently cleaned home looks sparkling clean and brighter than before.
Increase the Presentability of Your Home
It's easy to spot dirty windows because stains and smudges are clearly visible when light shines through your windows. A thorough window cleaning means no unsightly stains on your windows, so you and your friend and family can relax and enjoy your home.