Reducing dust in your home makes a big difference in keeping allergies at bay, and maintaining good health. Failure to keep dust under control in your home can expose you and your loved ones to dust particles that include nasty stuff like bugs and even mold.
Get 10% off first cleaning
Quality and affordable service
Experienced and qualified staff
100% satisfaction guarantee
Trust our team to keep your home dust-free!
Get a Home Cleaning Quote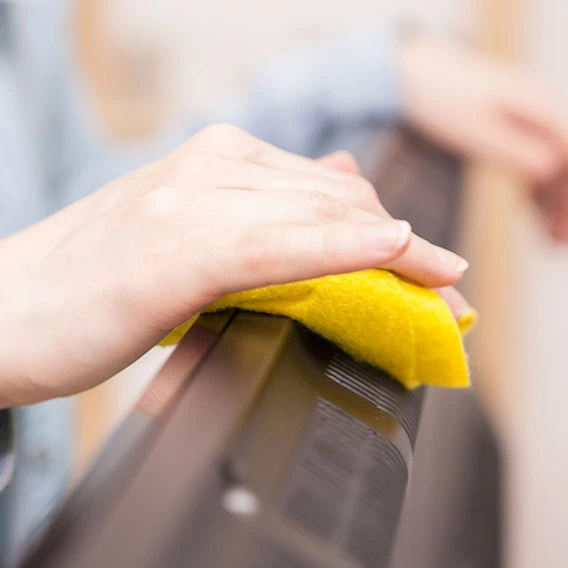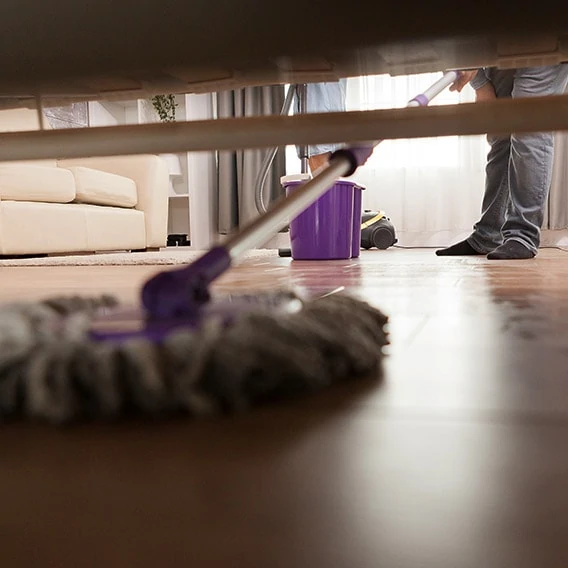 When it comes to dusting, part of what we do is general dust removal which entails dusting:
The front, back, and sides of televisions
Knick knacks and other decor
Fans and light fixtures within safe reach
Additionally, our house cleaning team removes cobwebs around the house including corners of the rooms. We also go over door frames, doors, walls, decorative items, and baseboards.
Book Your Home Cleaning Today!
Why is Dusting a Home Important?
Regular dusting reduces bacteria, germs, allergens, and dust. Dust is composed of various types of particles including pollen, dirt, animal and human hair, pet dander, and skin cells. There are even small bugs that can live in dust.
Dust accumulation can trigger allergies and can also cause sneezing, runny nose, eye irritation, coughing, etc. Apart from the health implications, dust can also be an eyesore that makes your home look and feel less pleasant.
Our team carefully and meticulously cleans your home of dust to create an allergen and dust-free living space.
Dusting Tasks We Perform
Our house cleaners perform thorough dusting as part of a home cleaning. This includes the following:
Surfaces and Counters
When dusting surfaces and counters our house cleaners use green cleaning products that are gentle enough to protect surface materials, but strong enough to leave surfaces clean. We use microfiber cloths to further protect surfaces and leave a lint free clean. For countertops, we also use a disinfecting solution to sanitize countertops.
Furniture
In order to control the dust in your home, our cleaning team will also dust the furniture in your home. This includes dusting the tops, sides, and even underneath to ensure we remove as much dust as possible.
Door Frames, Baseboards, Corners, and Walls
We rid door frames, baseboards, corners, and walls of cobwebs and dust. We clean the surface for not only a good look but to also prevent the spread of allergies through dust.
Televisions
The static from electronics like televisions can attract a lot of dust. Our cleaners will make sure to dust all sides of your televisions, including the front and back, to leave your TV dust free.
Knick Knacks and Decor
Your decorative items throughout the house can collect dust in the groves and surfaces of those items. Our professional cleaners will carefully and gently dust decor including picture frames and other knick-knacks.
Window Sills
For any windows that are within safe reach, our house cleaners will clean windows and other glass surfaces - this includes also dusting window sills to remove any accumulated dust.
Fans and Light Fixtures
Fans and light fixtures can also be popular dust magnets in your home. Our cleaning team will dust any light fixtures and fans that are within safe reach. We use long extended dusters to get harder to reach areas and remove as much dust from your home as possible.
Our house cleaners dust your home as part of any of the following home cleaning services:
Other cleaning we perform as part of a home cleaning includes:
Call Us Today for a Free Quote
Book your cleaning today, and get a 10% discount on your first cleaning service!
Call Us

(226) 400-7376
Frequently Asked Questions
How is dusting performed?
Our team always works top to bottom so that dust doesn't fall on an area we've already cleaned. We choose a place to start and work around the room so that we do not miss any spots.
For efficient results, we use specialized microfiber cloths that not only attract but also hold dust particles. Unlike spray cleansers, these don't leave any residue.
Regular dusting is ideal for areas that build up dust quickly. It is also great for the more noticeable areas of the home such as the furniture in the kitchen, dining room, living room, bathroom, and bedroom.
Do dusters actually work?
Yes, dusters actually work when it comes to dusting. Some are more effective compared to others. The different types of dusters for dusting include:
Natural fiber dusters
Feather dusters
Microfiber dusters
Vacuum dusters
Compressed air dusters
Rubber dusters
How often should you dust a home?
For the easy-to-reach areas, you should try to dust weekly to keep dust and allergens under control. For the hard-to-reach areas like high shelves, door frames, corners, and ceilings, you should dust the home once a month.
What happens if you don't dust?
Failure to vacuum or dust your home can irritate airways causing coughing, sneezing, and congestion. Dust also carries various particles that can trigger allergies in some people. Keeping your home dust-free helps to maintain good health for you and your loved ones, including your pets.