Garbage and recycling receptacles need to be emptied regularly to avoid unpleasant odors in the home, and to keep bins from overflowing. Garbage bins can also accumulate dirt and bacteria from food and liquids. Our team empties your receptacles and even wipes them down and sanitizes them, for a cleaner and fresher smelling home.
Get 10% off first cleaning
Quality and affordable service
Experienced and qualified staff
100% satisfaction guarantee
Book your home cleaning service today!
Get A Free Quote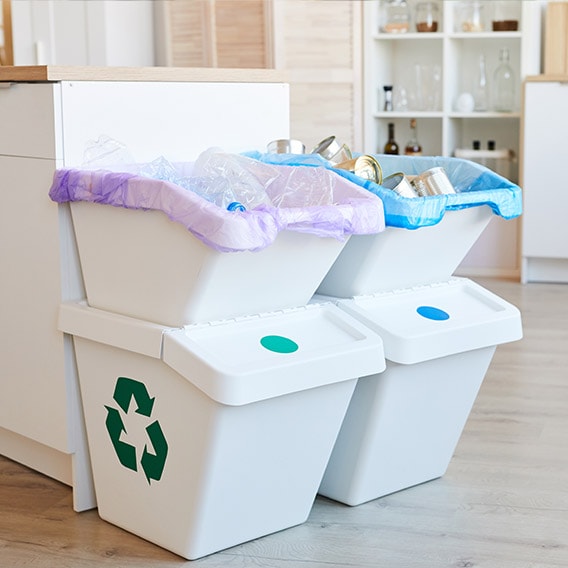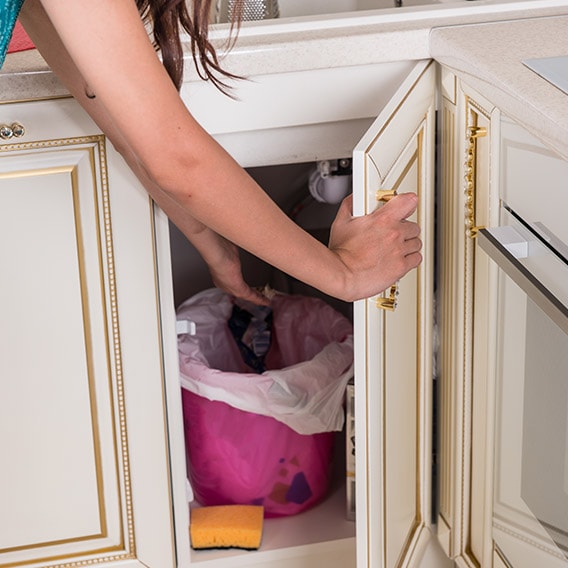 As part of our home cleaning services, our cleaning team does the following:
Empties all recycling bins
Empty garbage receptacles
Wipe down and sanitize receptacles as needed
Dirty garbage and recycling bins can be a breeding ground for harmful bacteria, critters and bugs. With a regular home cleaning, you can come home to the smell of "fresh".
Getting started is easy. Get a free estimate online and book your cleaning today!
Get Started Today
Why Is Garbage Removal Important?
Garbage receptacles around the home fill up quickly, so it's important to empty them out on a regular basis to avoid them from overflowing.
For rooms like the kitchen, garbage receptacles can harbor harmful bacteria and can even lead to pest issues if they aren't regularly emptied. Food waste can also produce unpleasant odors.
Heavily used receptacles, like the ones in the kitchen, can also get messy from food waste and liquids. Without a proper cleaning and sanitizing, garbage receptacles can spread bacteria when garbage bags are replaced. Cleaning receptacles is not just sanitary, but also helps to keep your home smelling fresh.
Garbage Removal Tasks We Perform
Empty Garbage Receptacles
Our house cleaners will empty dirty garbage receptacles throughout your home and take them to a designated spot of your choosing. We'll also put a new bag in place of the old one so that it's ready to store more trash. Is it garbage pickup day? Our team will gladly take the garbage to the curb for you, just ask!
Empty Recycling Bins
Our cleaning team will also empty out recycling bins that are full and replace the bag with a new one. We'll place the full recycling bag in a designated spot of your choosing, or take it to the curb if you ask us to.
Wipe Down And Sanitize Receptacles
During a home cleaning, if our house cleaners spot a garbage or recycling receptacle that's dirty we'll wipe it down and even sanitize it so that it's clean and doesn't produce unpleasant odors.
Our house cleaners clean take our the trash as part of any of the following home cleaning services:
Other cleaning we perform as part of a home cleaning includes:
Call Us Today for a Free Quote
Book your cleaning today, and get a 10% discount on your first cleaning service!
Call Us

(647) 760-6357
How It Works
Get An Estimate
Our booking process is easy and quick, over the phone or online. Get in touch with us now for an estimate.
Choose Your Frequency
Do you need an annual, monthly, weekly, or just a one-off cleaning service? Choose a frequency and let us do the rest.
Schedule an Appointment
You can schedule an appointment on the phone, or online from any device at your convenience.
Get a Free Quote Now
Benefits of Garbage Removal
Cleaning a home isn't just about removing dirt and debris. Our team ensures that your home is left looking clean and smelling fresh. Here's how garbage removal helps accomplish that goal:
Garbage Free
Garbage removal is essential not only for a clean environment but also the safety of both pets and those at home. Our frequent garbage removal service ensures your home is free of garbage.
Sanitization Of Receptacles
Waste receptacles and trash cans are a vital aspect of a food safety plan. They can be a source of pathogens, viruses, and bacteria that contaminates food. Clean and sanitized receptacles help keep your home safe for you and your loved ones.
Reducing Odors
Unpleasant smelling garbage is not just an annoyance but also attracts raccoons, rats, flies, and bugs. By emptying, cleaning and sanitizing your garbage cans, we are able to keep the odors, and pests, at bay.