Dining rooms get messy and need constant cleaning. Unfortunately, you don't always have the time to clean some of the more conspicuous areas, nooks and crannies.
The good thing is that we have a team of exceptional home cleaners who can get your dining room looking spotless and smelling fresh. We are just a call or booking away.
Get 10% off first cleaning
Quality and affordable service
Experienced and qualified staff
100% satisfaction guarantee
Book a home cleaning today. Get started by requesting a free estimate online.
Get A Free Quote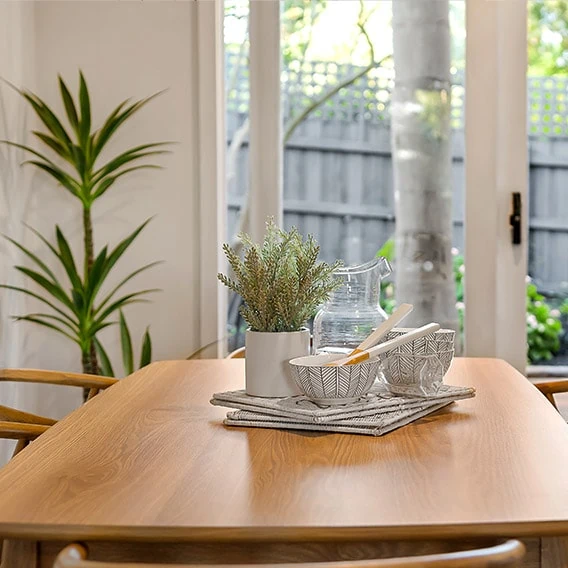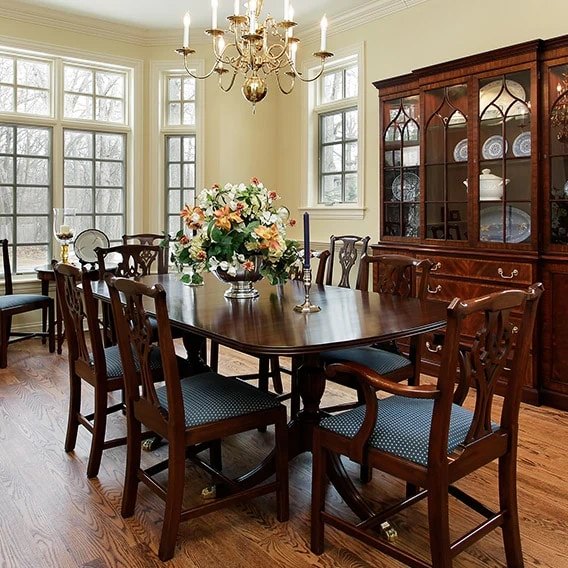 As part of a home cleaning, we perform the following cleaning tasks in your dining room:
Perform a thorough dusting
Spot clean windows and walls
Clean and wipe down dining table
Our team will give your dining space a detailed cleaning so you can relax when you dine, or host company with confidence and pride.
Get a free estimate online today to get started.
Get Started
The Importance of a Clean Dining Room
A clean dining room is important for general hygiene as well as for preventing pest problems in your home. A dining room is a space that quickly accumulates dirt and food debris which, if not regularly cleaned, can lead to pest issues.
Dirt and debris that accumulates on your dining table can also lead to scratches and stains. Regular cleaning extends the life and appearance of your dining furniture, and sets a relaxing and enjoyable mood for dining and entertaining.
Dining Room Cleaning Tasks We Perform
As part of our house cleaning services, here's a breakdown of some of the cleaning tasks we perform regarding your dining room.
Dust All Surfaces
Most dining rooms have surfaces and furniture that easily accumulate dust. Our cleaners dust your home including your dinner table and chairs, together with any other furniture like buffets or china cabinets. We'll also dust any knick-knacks, decorative accessories, lamps and ceiling fans within reach to eliminate any buildup.
Wipe Down Tables And Chairs
Our team cleans the chairs and table with a reliable and top-quality wood or multipurpose cleaner. We use microfiber cloths for cleaning surfaces as they guarantee a lint-free and streak-free look.
Spot Clean Windows and Walls
When cleaning your dining room, we'll inspect windows and walls for stains, smudges, or fingerprints and spot treat them to keep them looking clean. We use green cleaning supplies when cleaning windows and glass surfaces which are effective enough to leave surfaces spotless and free of streaks.
Clean Floors
Our team will sweep and mop floors, or vacuum carpets, to ensure that your floors are clean. We use cleaning solutions that are safe for whatever floor surface you have, whether it's hardwood, ceramic, or other type of flooring.
Our house cleaners clean your dining room as part of any of the following home cleaning services:
Other rooms we cleaning we perform as part of a home cleaning include:
Call Us Today for a Free Quote
Book your cleaning today, and get a 10% discount on your first cleaning service!
Call Us

(226) 400-7376
How It Works
Get An Estimate
Our booking process is easy and quick, over the phone or online. Get in touch with us now for an estimate.
Choose Your Frequency
Do you need an annual, monthly, weekly, or just a one-off cleaning service? Choose a frequency and let us do the rest.
Schedule an Appointment
You can schedule an appointment on the phone, or online from any device at your convenience.
Get a Free Quote Now
Benefits of a Clean Dining Room
A clean dining room offers lots of benefits to the home, including:
Better Dining and Entertaining Experience
A clean dining room allows you and your friend and family to relax and enjoy your time together. You can avoid the stress that comes with entertaining guests and having to clean up last minute.
Preventative Pest Control
Keeping your dining room and kitchen clean eliminates the food source of pests, and is essential for keeping pest issues at bay.
Extending the Appearance and Life of Furniture
Your furniture can last a lifetime, but its appearance can fade quicker than expected if you aren't regularly cleaning them. Using safe and effective products can also go a long way to keeping your furniture looking new.
Improve Your Quality of Life
Life demands a lot out of all of us, and cleaning can be a burden that prevents us from enjoying the finer things in life. Let us do the hard work, and keep your home looking great and smelling fresh!
Get a Free Estimate Today