About KCS Kitchener Cleaning Services
KCS Kitchener Cleaning Services is Kitchener-Waterloo's trusted house cleaning company. Located in Cambridge, we proudly serve the Kitchener-Waterloo and Guelph regions with our top-notch service and commitment to excellence.
We love our community and are proud to be part of a city that values honest work and excellent results. Our team works hard each day to make sure that our clients have nothing but the best experience when it comes to house cleaning.
Our Mission
At KCS Kitchener Cleaning Services, our top priority is providing the highest quality of service for our customers.
Our mission is to become the top choice for house cleaning services in the Kitchener-Waterloo region.
We strive to do this through delivering high-quality cleaning services, exceptional customer service, a friendly cleaning team, and pricing that is highly competitive.
To accomplish our goal, we implemented a 100% satisfaction guarantee – so that our clients know that we will always stand behind our services and ensure each client has a positive experience with us and our team.
Our Kitchener-Waterloo Roots
KCS Kitchener Cleaning Services was founded in 2022 when its founder visited Kitchener Ontario and fell in love with the city's history, community, and surrounding nature.
Inspired by the city's charm and beauty, she decided to create a business that would pay homage to Kitchener's culture and heritage.
The company's logo is a graphical representation of the historical clock tower now located in Victoria Park, Kitchener. This clock tower was originally atop the old Kitchener City Hall from 1924 until it was moved to its current location at Gaukel Street entrance which was complemented with a fountain and a sculpture of luggage created by local artist Ernest Daetwyler. These works symbolize the various waves of immigration that have contributed to the city's history.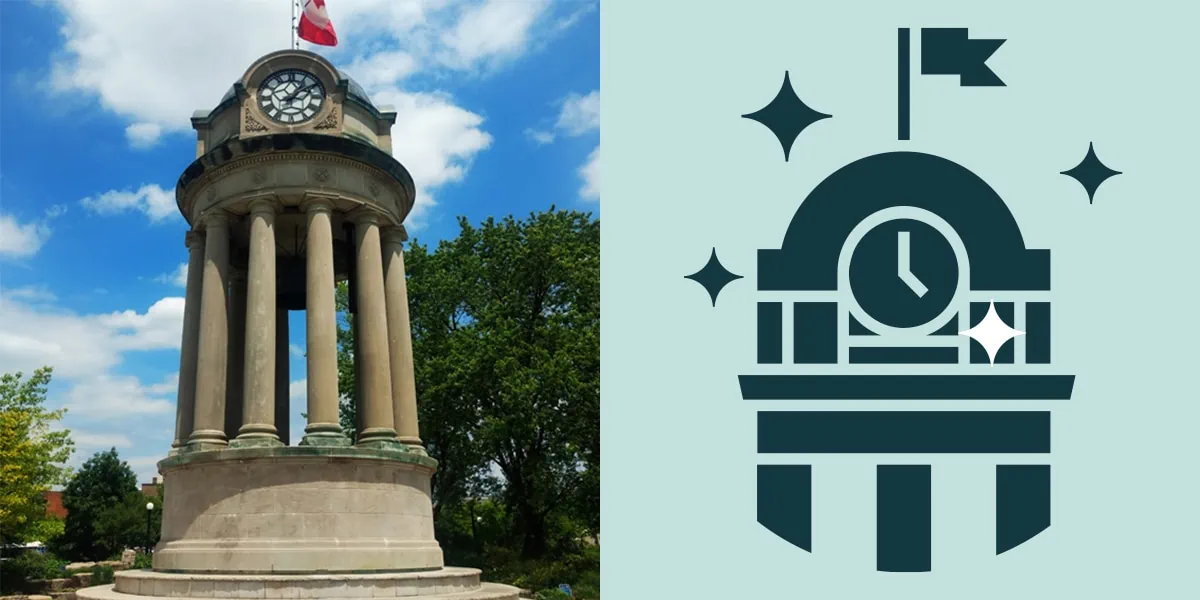 Having set its roots in Cambridge Ontario near The Grand River, KCS Kitcheners Cleaning Services values all aspects of the nature, community and history of the Kitchener-Waterloo Region. This is a key factor in our descision to only use green, eco-friendly cleaning products as part of our services.
We are proud to be part of such an inspiring region and strive each day to bring our clients high quality service that honors our roots.
Giving Back to Our Community
KCS Kitchener Cleaning Services values all members of our community, especially those who may need extra help.
Before founding the company, our founder worked for many years as a personal aide worker for elderly people in the Kitchener, Waterloo, and Guelph communities. With this experience in mind, she wanted to continue to support them after leaving her job when creating this company.
To show our commitment to senior citizens in our community, KCS provides a 10% discount on all services for senior citizens so they can receive quality cleaning services at an affordable rate. We believe that it is our duty to give back and make life just a little easier for those who have given so much of themselves to benefit others.