Bathrooms require the most frequent and detailed cleaning and disinfecting of all rooms in your home. The build-up of soap scum, mildew, germs, bacteria, and general bathroom dirt can make your space messy, unsightly, and unhealthy.
With regular cleaning, however, your bathroom can be a relaxing place to shower and freshen up.
Get 10% off first cleaning
Quality and affordable service
Experienced and qualified staff
100% satisfaction guarantee
Book your home cleaning service with us today!
Get A Free Quote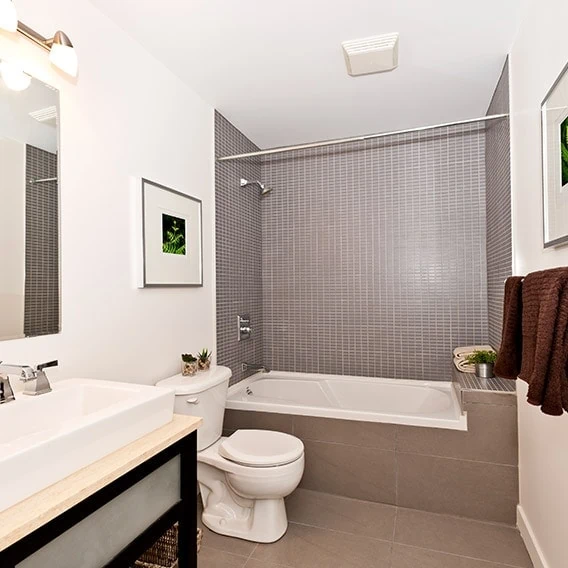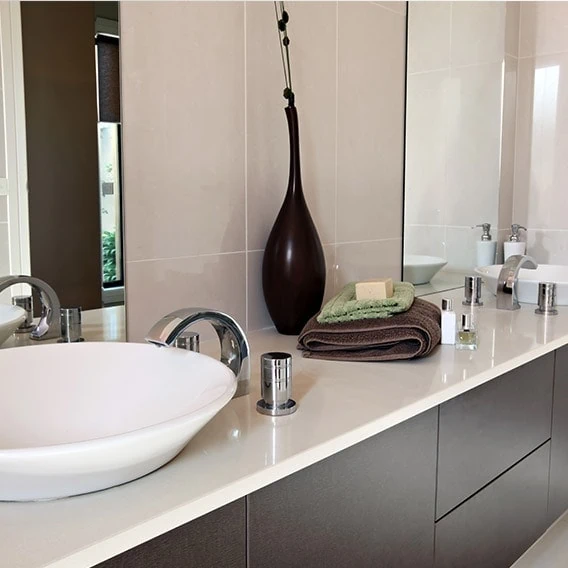 Here are some tasks we perform as part of a home cleaning, with respect to your bathrooms:
Clean and wipe down mirrors
Clean countertops and soap dishes
Sanitize toilets, showers and sinks
Wipe and disinfect light switches
For an extra clean, we perform the following in addition when we perform a deep clean of your bathroom:
Clean vanity and cupboards
Detailed toilet and bathtub cleaning
Clean and sanitize toilet brush
Restore and revitalize your bathroom. Get started by requesting a home cleaning estimate today.
Get Started Today!
Why is a Clean Bathroom Important?
It's very important to regularly clean your bathrooms because these rooms can produce the perfect mixture of conditions required for bacteria to thrive.
Harmful bacteria can get onto counters and other surfaces, like toothbrushes, and cause health problems.
A dirty bathroom can also cause unnecessary wear on materials in your bathroom such as tile grout, stainless steel, toilet hinges, and sinks and faucets. Regularly cleaning your bathroom ensures that you protect and extend the life of the materials and surfaces in your bathroom, while maintaining a more hygienic environment.
Bathroom Cleaning Tasks We Perform
We have a meticulous cleaning process designed to get your bathroom clean and disinfected. Here's what you can expect when we clean your home:
Clean Mirrors
We use green cleaning solutions to clean your bathroom mirrors of water stains, smudges, toothpaste, and more. We'll also dry the mirrors thoroughly for a streak-free shine.
Clean Countertops
Aside from performing general home dusting, our house cleaners will wipe down and sanitize your bathroom countertops and get rid of soap scum, toothpaste, water stains, hair and other dirt and debris.
Sanitize Toilets, Showers and Sinks
To keep your bathroom looking clean and smelling fresh, our cleaning team will sanitize your toilets, showers, and sinks. We use microfiber cloths in order to leave a lint-free and streak-free shine.
Wash Your Floor
As part of a home cleaning, we sweep and mop your bathroom floor. This includes getting rid of pesky hair that tends to gather in the corners of the room.
Empty Garbage
Before our cleaning team moves on to clean another room in your home, we make sure to empty garbage bins in your bathroom. This includes wiping them down and santizing them as well.
Clean Light Switches
During a bathroom cleaning, our cleaners make sure to wipe down and sanitize your light switches to clean them of smudges or stains.
Clean Doors and Trim
As part of a bathroom deep cleaning, our cleaners will also wipe down your bathroom doors and door trim to remove stains or scuffing.
Clean Vanity and Cupboards
If you request a deep clean, our house cleaners will also wipe down your vanity. This includes cleaning the exterior of all drawers, doors, and cupboards.
Detailed Toilet and Bathtub Cleaning
When our team deep cleans your bathroom, we spend a lot more time detailing your toilet and bathtub. This includes using a small cleaning brush to get into every nook and cranny, including toilet hinges. We also clean and wipe down all sides of your bathtub to remove soap scum and water stains and get everything sparkling clean.
Clean and Sanitize Toilet Brush
Your toilet brush should be thoroughly cleaned periodically. Our team will thoroughly clean and disinfect your toilet brush as part of a bathroom deep clean.
Our house cleaners clean your bathrooms as part of any of the following home cleaning services:
Other rooms we cleaning we perform as part of a home cleaning include:
Call Us Today for a Free Quote
Book your cleaning today, and get a 10% discount on your first cleaning service!
Call Us

(226) 400-7376
How It Works
Get An Estimate
Our booking process is easy and quick, over the phone or online. Get in touch with us now for an estimate.
Choose Your Frequency
Do you need an annual, monthly, weekly, or just a one-off cleaning service? Choose a frequency and let us do the rest.
Schedule an Appointment
You can schedule an appointment on the phone, or online from any device at your convenience.
Get a Free Quote Now
Benefits of a Clean Bathroom
Bathrooms are one of the most utilized rooms in a home. Here are some benefits to regularly cleaning your bathroom:
Eliminate Bacteria
Bathrooms are a breeding ground for bacteria, germs, and other harmful allergens. If not properly cleaned and disinfected regularly, they can negatively impact the health of you and your loved ones.
Having your bathroom cleaned regularly will ensure that all surfaces in your bathroom are properly cleaned and disinfected.
Prevent Mould
Wet bathroom surfaces can develop mould over time. Mould can affect your health, so it's important to keep your bathroom cleaned on a regular basis.
By having our cleaners clean your bathroom on a regular basis, we can use products that will disinfect your bathroom and keep mould at bay.
Extend the Life of Your Bathroom
With regular cleaning with proper tools and procedures, you can avoid unnecessary wear and damage to your bathroom including shower tiles, toilet, baseboards, grout, and more. Using a professional cleaning service ensures that your bathroom is cleaned with the right cleaning solutions and equipment to maintain the quality of your bathroom.
Improve Your Quality of Life
A clean bathroom can be a luxurious experience. You can relax and enjoy a nice shower or soak in a sparkling clean, and fresh smelling room. Or you can start or end your day feeling at peace and comfortable. Let our house cleaners do the hard work of keeping your bathroom pristine.
Get a Free Estimate Today!